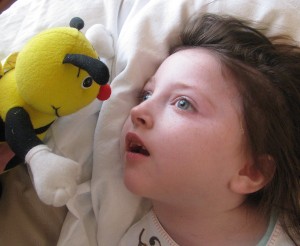 Kaya, aged 6, is using a switch to interact with those around her and to make choices in her day.
Bronwyn Harte-Fielder describes how the education team have worked in partnership to support Kaya as she develops her communication skills.
Kaya is enrolled in the Correspondence School and her education team work alongside Kaya and her whānau at home.
Background
As Kaya is a learner with Complex Needs and a Cortical Vision Impairment (CVI), a number of different professionals work alongside Kaya and her family.
A partnership approach has enabled the team to build on each others expertise and experience in tailoring a programme of learning to meet Kaya's needs. Included in this team are staff from the Correspondance School, from Talk Link and from the regional Ministry of Education team.
As a framework for supporting Kaya to develop her communication skills, speech language therapist, Rebecca Brown has introduced the CAMP model:
C  Creating communication opportunities.
A  Including assistive technology (AAC) e.g switches.
M Modeling communication to maximise independence.
P  Prompts: identifying how and when to prompt.
Kaya's current communication skills
Kaya is able to
communicate with intent through switches and body language such as lifting her hand.
intentionally press a switch to respond to a greeting, e.g. "hello" (figure 2).
lift her hand or press a switch to indicate that she wants more of an activity (figure 3).
The team, working in partnership, are using a combination of voice, sign language and picture cards to support Kaya in her learning.
Teaching and learning strategies and adaptations
We created opportunities for communication for Kaya by ensuring that all visitors came over to say hello to Kaya.
It was important that Kaya's communication switch with the "hello" recording was placed where she could reach it easily. After saying hello we ensured that Kaya was given plenty of time to respond by pressing her switch and using eye contact.
We trialled a number of switches to ensure that any technology was easy for Kaya to use and ensured that the voice we recorded on the switch was of a girl of the same age as Kaya. The 10 second YouTube video below shows Kaya activating a red switch which speaks "hello".
Video 1 Kaya pressing a switch to say hello
We modelled pressing the switch and asking for "more" for Kaya by holding the switch up where she could see it and then pressing it so that Kaya could hear the "hello" response or by lifting our hands to model "I want more."
We then waited, to give Kaya TIME to respond independently as in video 1.
We used prompts such as voice, sign language and clear pictorial representations in red and yellow as in figure 5. We used red and yellow pictures following a series of observations to assess which colours Kaya responded to more consistently.
Kaya is now beginning to communicate without the support of prompts and is using her voice to say "hello."
Where to next?
Continue to give Kaya the opportunity to communicate throughout the day.
Give Kaya the time to respond independently and to make choices. 
Encourage Kaya to use her voice to say "hello" and to request "more" through modelling, prompting and praising Kaya's responses.
Personal reflection
Using a model such as the CAMP model and working together with the team in the planning sessions ensured that the learning goals and strategies for Kaya were consistent.
Members of the team attended the initial CAMP training workshops and then participated in follow up sessions linked specifically to Kaya with the support of Talklink.
Access to equipment and support from Talklink was invaluable.
It was very important that Kaya was given the opportunity to communicate intentionally throughout her day.
Building on what Kaya could already do in small steps assisted Kaya to make  progress in her ability to respond to others and make requests independently and intentionally.
Useful Links
More information
Email us at BLENNZ Online for more information about this subject
We will link you up with either the author of this post or another BLENNZ colleague with whom you can continue your conversation.