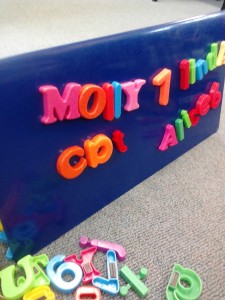 Using "Storykit" on the iPad, Molly is able to record her voice, and add pictures and text to her spoken story. Using magnetic letters on a whiteboard, Molly can write sentences.
Linda Ojala, BLENNZ Wellington shares how providing alternatives to pen and paper has increased Molly's literacy tool kit and enabled her to use her well developed oral language skills to communicate her ideas alongside her peers.
Molly is in year 3 at her local primary school.
Overview of Molly's literacy skills
Molly can recognise letter sounds and is able to phonetically use this knowledge to say how a word is spelt.  Molly has a wealth of stories in her head and is always willing to share her ideas and orally craft a story.  Although Molly is able to form basic letters and numbers, writing stories with a pen or pencil is at this stage a barrier to contributing and participating in whole class literacy activities.
Multiple options to support literacy
We have been focusing on providing Molly with a variety of ways she can share her stories. One of these has been to use a white board with magnetic letters (fig.1).
Molly is able to quickly scan and locate the letters that she needs to spell a word.
The introduction of the iPad
Molly has just received an iPad 2 and is using the on screen keyboard in Pages to write words independently.
In the short time Molly has moved from tapping all over the screen to being able to delete individual letters.
Molly has also been exploring an iPad app called Storykit. In Storykit, Molly can record her own stories orally and then add both text and pictures.
Molly has demonstrated that she can concentrate for longer if she can choose where she sits to write. In figure 2, Molly has chosen a dark space to write her story. The screen is brighter in a darker space. This space is also quieter than the general busy classroom space.
Next steps
Molly is now able to use alternatives to pencil and paper in literacy to independently share her writing with her peers.
We are also going to explore using the iPad pen so Molly can write directly on the screen and turn her words into printed text.
Teaching and learning strategies and adaptations
As an education team alongside Molly we provide a range of sensory activities throughout the day to compliment the more static tasks such as reading and writing. Molly demonstrates that she is able to give her attention to literacy for longer periods if we break the day up like this.
We also make every effort to reduce visual clutter in the classroom, e.g. extra information is taken off worksheets and tables have designated spaces for storing resources.  Molly's class teacher also differentiates activities for Molly so that they match Molly's skills and interests.
Useful Links
An iPad app called Storykit – iTunes App Store.
Wacom Bamboo Stylus in action – YouTube.
More information
Email us at BLENNZ Online for more information about this subject.
We will link you up with either the author of this post or another BLENNZ colleague with whom you can continue your conversation.