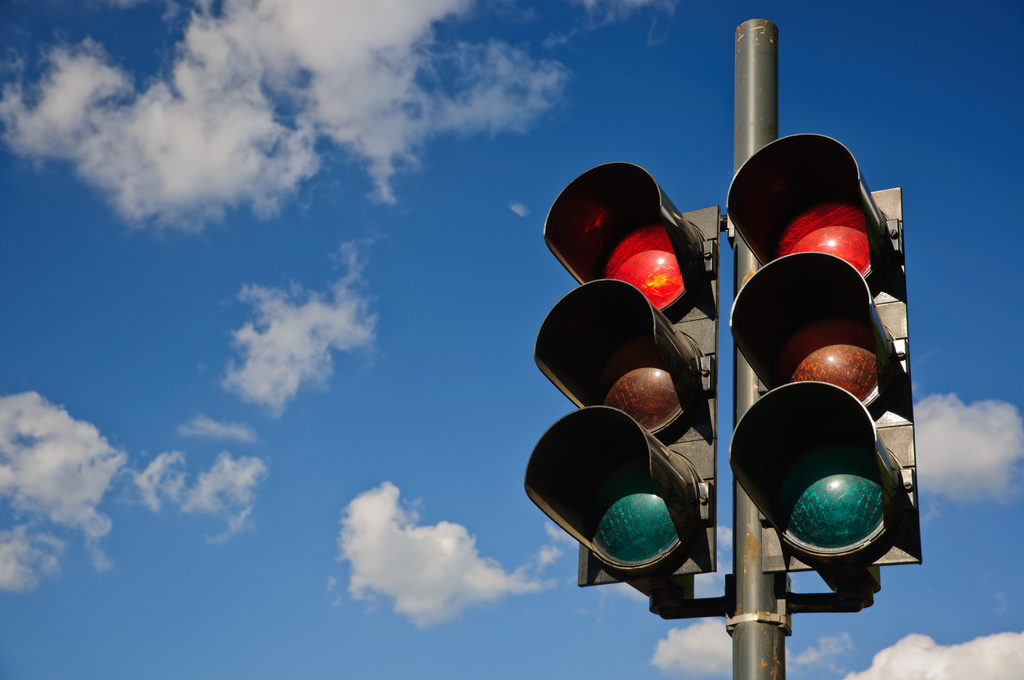 Jeanine has been using a traffic light system to let the primary classroom team know how well she can see.
Devi Dawson (BLENNZ Resource Teacher Vision) describes how the education team worked together to find a useable self advocacy system for Jeanine.
The need for self advocacy skills
Knowing when and how to ask for what we need is a whole of life skill, that is useful in everyone's tool kit. As an education team we recognised that Jeanine needed some strategies to let us know when she needed some adaptations to her learning environment or the resources she was using.
Introducing the traffic light system
We introduced the traffic light system as a way Jeanine could easily communicate how well she could see to participate alongside her peers in the classroom. We taped 3 coloured plastic disks (fig. 1) to Jeanine's desk, so that they remained handy for Jeanine. The traffic light system uses:
green: I can see well.
yellow: I am having difficulty.
red: I am finding it very difficult.
Jeanine is now using the traffic lights to indicate her needs. She can either point to the appropriate button or tell her teacher how she is finding an activity.
Using the traffic light system to support skill development in other areas of the curriculum.
To encourage Jeanine's use of the computer to record ideas we have started working on recipe books. Jeanine now uses a digital camera to record the steps in the recipes. We use Publisher to write the recipe books (fig. 2). Throughout the process, Jeanine has her traffic light system at hand and uses it to indicate how easily she can see.
Our future focus is for Jeanine to increase her self advocacy skills, and be able tell those around her if she needs some support with a visual task.
Teaching and learning strategies and adaptations
All those working with Jeanine needed to be aware of the system and participate in its use.
Our first step was to develop a relationship of trust with others in the classroom. We achieved this by introducing trust building games and introducing new playground equipment which encouraged Jeanine to interact with her peers.
Within the classroom we continually touched base with Jeanine to establish how she was feeling. We also used a sticker chart to encourage her to sit at the front of the mat and be a part of the classroom activities. As Jeanine loved stickers, they were a useful motivation tool.
Useful Links
More information
Email us at BLENNZ Online to find out more information about this subject.
We will link you up with either the author of this post or another BLENNZ colleague with whom you can continue your conversation.